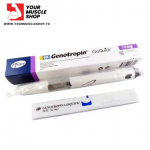 Step-1: Pinch a skin fold at the injection site tightly and insert the GENOTROPIN PEN at a 90° angle.
Step-2: Push the pen down as far as possible
Step-3: Until it snaps, squeeze the black/white injection knob.
Step-4: Withdraw the GENOTROPIN PEN after waiting for at least five seconds.
Disclaimer
: Above-stating content is provided for informational and educational purposes only. Before starting any type of program or treatment, it is advisable to seek advice from your health professional.
Join our Telegram Group for exclusive deals & Promotional Offers :
https://t.me/yourmuscleshop
www.yourmuscleshop.to
"A Premium Quality Brand"