TRT Plus – 400 mg/ml 10 ml/vial EP GOLD - USA
ALL CONTENT IS PROVIDED STRICTLY FOR ENTERTAINMENT PURPOSES. UNCLE Z AND I MAKE NO REPRESENTATIONS OR WARRANTIES OF ANY KIND AS TO THE CONTENT, INCLUDING, BUT NOT LIMITED TO, IMPLIED USE OF AAS/PEDS, MEDICAL ISSUES OF ATHLETES, MEDICAL ADVICE. BY USING ANY CONTENT IN ANY WAY, WHETHER OR NOT AUTHORIZED, THE USER ASSUMES ALL RISK AND HEREBY RELEASES UNCLE Z AND MYSELF FROM ANY AND ALL LIABILITY ASSOCIATED WITH THE CONTENT.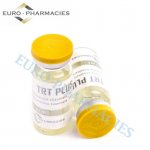 For those wanting to enlist a little kick to their TRT program, Uncle Z is the place to be!! Uncle Z's EP Gold Line TRT Plus comes with a kick. Testosterone Enanthate 200 mg and Drostanolone (Masteron) Enanthate 200 mg
First Testosterone Enanthate.
Testosterone Enanthate is one of the oldest anabolic steroids of all time. It is a slow acting release form of the testosterone hormone and would be the first large/long ester testosterone form used. Synthetics of testosterone were first developed as early as the 1930's. The first form of Testosterone with an Ester attached hit the market in 1937 and was produced by Schering company. By attaching the ester to the testosterone molecule, we are able to control the release of the hormone better. It was not until the 1950's that the Enanthate Ester was utilized and we were able to slow the hormones activity down even more. Since the application of the Enanthate Ester, Test E has dominated the field with Test Cypionate joining a few years later. The difference between test e and test cyp is trivial.
After initial injection the is generally a large spik in test levels for 24 – 48 hours and reaches its half-life in approximately 8 days. The half life of 8 days is why the Test E can be administered once a week, although most will still inject at lease twice a week. Testosterone is the Hormone that all others are measure from as it carries an Anabolic/Androgenic Rating of 100/100.
Testosterone enhances Protein Synthesis and Nitrogen Retention while increasing Red Blood Cells and IGF-1 output. Additionally, testosterone Inhibits Glucocorticoid hormones such as Cortisol. These hormones are essential in the body but not in large amounts because they can induce muscle wasting as they destroy muscle tissue and stimulate fat gain.
Drostanolone (Masteron)
Drostanolone didn't hot the market until the 1970's when Syntex began marketing it by the trade name "Masteron", even now, most of us still call it by the trade name of Masteron. Mast was originally developed back in the 50's around the same time that Syntex developed Anadrol, but mast wouldn't be released until much later.
Masteron was originally designed to combat inoperable breast cancer and enjoyed almost two decades of medical use before being discontinued. It is still approved by the USFDA for that use but seldom used. It is mostly seen not as a cutting agent in the bodybuilding community.
Masteron is a dihydrotestosterone (DHT) derived anabolic steroid. The DHT hormone that has been substantially altered by the addition of a methyl group at the carbon 2 position. This protects the hormone from the metabolic breakdown when it encounters the 3-hydroxysteroid dehydrogenase enzyme found in the skeletal muscle. But it is this same structural alteration that increases the hormone's anabolic nature. Mast Enanthate can be found through most UGL's and because of the larger size of the Enanthate Ester, it doesn't have to be injected as frequently.
One of the best know facts about Mast is that it is one of the only anabolic steroids with strong anti-estrogenic properties. Not only does it not promote estrogenic activity, but it can actually act as an anti-estrogen in the body. That is the primary reason that it was developed and why it has been effective in the treatment of breast cancer. Mast when used in conjunction with Nolvadex has been shown to be far more efficient than chemotherapy in the treatment of some inoperable breast cancer in postmenopausal women. For this same reason, anti-estrogen effect, it is a popular steroid among bodybuilders as it could prohibit the need for an anti-estrogen when used in the right cycle.
Masteron carries relatively low anabolic/ androgenic rating of 62/25. But do not let this mis-lead you. You must remember that Masteron is derived from DHT which is five times more androgenic than testosterone with a much stronger binding affinity to the androgen receptor. This is what promotes a harder look and can also improve fat loss.
Masteron is not very anabolic and so it is not known for boosting gains in lean muscle mass. It will not generally be found in a bulking cycle but has been used by some to help keep fat gains at bay. It will almost always be found in cutting cycles among performance athletes or as kick in a TRT regimen. When adding Mast into a cutting cycle or in to a TRT regime, if you are 10% body fat or less, you will absolutely see just what Masteron can do. Mast is more for that Aesthetic hard look that bodybuilders are looking for.
Hands down, for me any way, when I run my TRT levels of Testosterone, Mast will always be a companion AAS. And what better place to pick it up than
UNCLE Z. EP GOLD LINE - TRT PLUS