Approved Supporter
VIP GOLD
Hello Dear Ironoverload Members,
Permit me to bring to your notice the latest UPsteroid Product of the Week Promo!! This week we offer two promotional packages courtesy of TEST-E from DRAGON PHARMA. Check them out below!!
1st Promo:
***Buy 2 TEST-E DRAGON = + 1 FREE!***
2nd Promo:
***Buy 8 E-Test purchased = + 4 FREE***
***Valid until November 28, 2022.***
Tesosterone Enanthate is a slow-acting injectable form of androgenic testosterone. After being injected into the body, the drug is designed to provide a sustained release of testosterone into the blood for about 2 to 3 weeks. In order to maintain normal physiological testosterone levels during cycles, injections of Testosterone Enanthate are usually required at least every two weeks, although more meticulous physicians administer Testosterone Enanthate 250mg Dragon Pharma per week. As with all injectable testosterones, testosterone enanthate is strongly favored by athletes for its ability to promote large increases in muscle mass and strength.
Please make sure you consult with your doctor before running TEST-E or any other AAS for that matter. But if you're in the all-clear, then feel free to take advantage of this promo today. Goodluck!!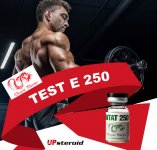 Last edited: