Approved Supporter
VIP GOLD
Dear IronOverload Members,
Permit me to bring to your attention the latest UPsteroid Product of the Week Promo!
***
Buy 2 DIANABOL DRAGON = + 1 FREE!
***
***Valid until August 21, 2023.***
Dianabol 20mg 100tabs Dragon Pharma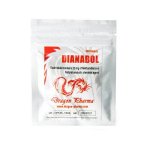 Dianabol Methandienone, commonly known as "Dbol", is one of the most effective anabolic steroids. Thanks to its remarkable effects on muscle volume, mass and strength, this oral anabolic steroid is very popular among bodybuilders, athletes and movie stars.
Laboratory: Dragon Pharma,
Form: Oral,
Molecule: Methandienone,
Concentration: 20mg / tablet,
Presentation: 100 tablets,
Recommended dosage: 30-80mg / day
Dianabol 20mg 100tabs Dragon Pharma quantity
We advise that you consult with your physician and/or personal trainer before running any AAS cycle including Dianabol. You can chat with an IFBB PRO
here
for more info about Dbol, training, and nutrition. Goodluck!!