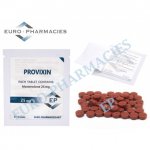 Proviron is on of the oldest AAS on the market. It first appeared in 1934 and was produced by the pharmaceutical company, Schering. Ih has appeared under numerous brand names throughout the years, however, the Proviron name has remained dominant. It is still currently produced by Schering and met heavy research in the 1970's as an antidepressant. As you can probably guess, it has been found to be less effective for this purpose than newer treatment options and is no longer considered an prroproiate treatment for depression.
In many ways, Proviron is a very unique anabolic steroid. It carries strong similarities to Masteron and to some degree, Anavar and Winstrol. But having similarities or not, Provioron is its own unique animal.
Proviron is a DHT derivative, specifically it is an altered form of DHT which possesses an added methyl group at the carbon one position. This allows for tabs to be ingested and protected from hepatic break down. Proviron is one of the only oral anabolics that is not C17-alpha alkylated with the addition of an alkyl group, but instead carries the added methyl group.
Proviron carries an androgenic rating of 30-40 and an anabolic rating of 100-150. All ratings derive from and are measured against testosterone, which carries a rating of 100 in both categories. Despite having an anabolic rating that is potentially greater than testosterone, Proviron will display very low anabolic traits. This is very similar to Halotestin which carries a massive anabolic rating but very little translatable anabolic activity.
Proviron carries four primary traits that defines it mode of action. Firs, the hormone has a strong binding affinity to Sex-Hormone-Binding-Globulin (SHBG). In fact, it appears to be one of the strongest anabolic steroids in this regard. By binding to SHBG, a hormone partially responsible for reducing free testosterone, binding SHBG will enhance the amount of circulating free testosterone. For the anabolic user, this will provide a grater amount of the aas that is used present in a "Free" state rater than bound up and not available. SO, what you take in addition to Proviron is stronger and better utilized.
Proviron also has the ability to interact with the aromatase enzyme, the enzyme responsible for the conversion of testosterone to estrogen. By binding to the aromatase enzyme, Proviron can actually inhibit aromatase activity, thereby offering protection against estrogenic side effects. It will not carry an anti-estrogenic effect near the level of power of an Aromatase Inhibitor (AI) but it will be notable.
The Proviron hormone carries a strong binding affinity to the androgen receptor which promotes the functionality of other steroids but more importantly stimulates metabolic activity through direct lipolysis.
Finally, Proviron as a fertility drug should not be overlooked. It has been shown to not only increase the amount of sperm that is produced but also the quality of the sperm. This is one that you want to watch if you don't intend on getting someone pregnant.
When looking at Proviron as a performance enhancer, doses normally range from 50-150 mg per day. Most men, however, will find 100 mg per day to be the minimum beneficial dose with both 100 mg and 150 mg being highly effective. Total use will normally last between 8-12 weeks. However, in an effort to breakthrough a plateau on a cycle a 6 week course of Proviron may do the trick.