Approved Supporter
VIP GOLD
Dear IronOverload Members,
I wish you all a Merry Christmas and Happy New Year.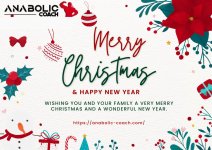 As the year draws to a close, we have decided to provide yet another promo to help you begin 2023 on a sound financial footing. Permit me to introduce to you our latest, year ending promo.
***
Buy 2 SUSTANON BIOTEQ = + 1 FREE!
***
***Valid until January 02, 2023.***
Sustanon 250 is an injectable steroid that contains four different testosterone esters. Each ml of Sustanon 250 contains the following:
30mg by Propionate de Testosterone
60mg de Phenylpropionate de Testosterone
60 mg of Testosterone Isocaproate
100mg de Testosterone decanoate
We advise that you consult with your doctor before running a Sust cycle or any AAS for that matter.
But if you are good to go, then please feel free to take advantage of our latest product of the week promo today.